General Policies / Facility Access
Facility Acess
NU-LED is an open access facility where anyone can come and utilize our in shop equipment for free.  If you would like to have access to the facilty, please talk to a NU-LED staff member and they will enter you into the door access system on NUcore.  Once entered you will have unlimited access to the facilty Monday - Friday, 9AM-5PM. Simply swipe your wild card and select one of the chartstrings associated with your NUCore account.  Note that this is simply the system used to track door entry. THE CHARTSTRING WILL NOT BE CHARGED FOR DOOR ENTRY.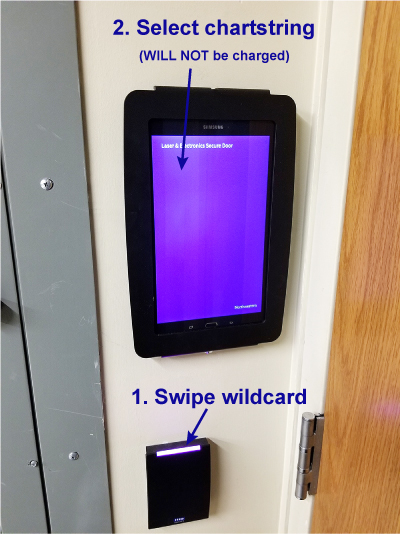 Equipment Usage inside the Facility
As of this time, usage of any of the equipment inside of the facility is free of charge.  This includes all test equipment, soldering stations, computers, etc.  The majority of small electrical components (resistors, capacitors, diodes, etc.) inlcuded in our component library are also available free of charge.  More expensive items (solid state relays, microprocessors, etc.) can be taken, but your chartstring will be charged for their retail value.
Equipment Leasing
We realize that often test equipment is required for in-situ testing.  Therefore, most of the test equipment in our shop is also available for leasing outside of the shop for a small daily fee.  For more details please see here or download our rental policy .
Professional Services
The first hour of staff labor is subisdized by IMSERC and is available free of charge.  This includes repair work, consultation, research about a specific project, and anything else that requires staff time.  After the first hour, our standard rates apply.  All work is performed on a best effort basis.