Classes and Workshops
NU-LED's staff has years of experience in a wide variety of fields, and we are happy to share our expertise with the Northwestern community. For that reason, NU-LED currently offers several classes and workshops to any student, postdoc, faculty, or staff interested in taking them. See below for more details. Please also consider filling out a short course survey which will help us schedule future classes and update course material based on student requirements. It will also allow you to be added to the class list prior to the open enrollment period.
1. "LabVIEW: An Introductory Course for Research Students"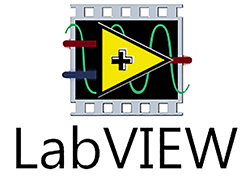 This two-week course teaches the popular LabVIEW programming environment from the basics up to creating mid-size applications. Approximately 30 hours of lecture material and practical exercises are offered. Upon completion, students will be able to independently create programs for their own research and should feel comfortable taking the CLAD certification exam offered by National Instruments. We regret that due to budgeting concerns, we can no longer offer the course for free. The cost to attend the course is currently set at $107.69 per student.
No prior knowledge of LabVIEW is required to take the course. In addition, a computer with LabVIEW software installed will be provided at no cost in order to perform the class exercises. Class size is currently limited to 15 students per session, but please note that the course will be offered every summer. The next course is tentatively scheduled for July, 2023. Classes will be held for 8 consecutive days from 9AM-12:30 PM each day. To enroll, or if you have any questions, please email Stephen Miller. Please also consider filling the short course survey, which will greatly help with future class scheduling.

2. "Introduction to FPGA-based Design"

Field programmable gate arrays are programmable devices which are used to implement digital circuits. The FPGA is programmed to get the desired functionality. Complex FPGAs can combine logic design, microprocessor, signal processing and communication applications into a single device. The goal of the training program is to introduce students to Field programmable gate arrays and practical design approach to FPGA applications. The lessons cover FPGA architecture, firmware development environment, design and implementation of digital circuits, and programming development kits. Students will design and implement digital circuits in FPGA. Simple programs written in hardware description language are used to program FPGA development kits.
This workshop is held twice a year. The workshop is scheduled during summer and winter terms and will consist of 3 hour sessions for 6 days. To enroll or for more information, please contact Sheena NM . Please also consider filling our short course interest survey, which will help with class scheduling, and will get your name on the class list prior to open enrollment. Class space is limited, so don't miss out.
3. "Want to Learn How to Solder?"
This FREE informal one-day workshop will teach the basics of soldering including: soldering wires, through-hole, de-soldering/rework, and a little bit of surface mounting. Class size is limited to 3 students per week, and will be held on alternate Wednesdays from 10AM-12:30PM.  Upon completion of the workshop, students will have built a small PCB noisemaker to annoy friends and labmates.  To enroll in the workshop or if you have questions, please email Stephen Miller .